We stayed in Gifu for a few days while touring Japan, yet again because we love the country. Watched the traditional river fishing technique (Ukai), although now mostly a tourism activity it has a long history. Ukai is a unique fishing method using cormorant birds to catch sweetfish (ayu). This fishing method has a history of some 1300 years, with a description of Ukai fishing on the Nagara River appearing in an ancient history book compiled in 702.
In ancient times, Ukai was generously protected by local and then national governmental agencies, who gave the Ukai fishermen extensive authoritative control over activities on the Nagara River.
Through the Edo Period (1603-1868), there were at any time a maximum of twenty one Cormorant Fishing Masters (usho) working the river.
An usho catches fish with the help of ten to twelve cormorants, operating from an ubune (Cormorant fishing boat).
The ubune has a crew of three: the usho, a nakanori (assistant), and a tomonori (helmsman).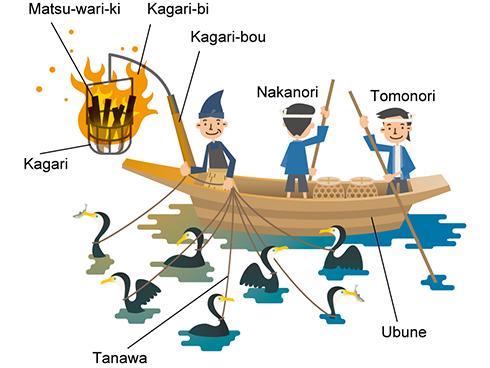 Ubune

… A 13 meter-long cormorant fishing boat with a crew of three: the

usho,

nakanori, and

tomonori.
kagari-bi

… The fire which supplies light both to work by, and to attract fish.
Kagari

… An iron basket which holds the

kagari-bi
Kagari-bou

… A pole from which the

kagari

hangs.